> Introduction
HOUGANG Japanese Language School was registered with the Singapore Ministry of Education in 1983. (You can find the name of our school under "Private Schools (A to H)" at
List of Private Schools of MOE Website
.) It is the first Japanese Language School in Singapore, established by Mr Kenji Kitahara. Mr Kitahara graduated from Kita Kyushu University in Japan in 1974. After coming to Singapore, he studied Chinese for three years at Nanyang University. Ever since the completion of his course, he has been contributing to the Singapore Society for twenty three years by teaching Japanese Language.
Upon registration with our School, you will receive a textbook. In addition, you will also be given subsidiary notes and homework for every lesson you attend (
We are sorry that we don't offer the online course.
) At the end of every course, there will be an examination and a Certificate will be given to you if you pass the examination. We also have preparatory classes for the
J.L.P.T.
(Japanese Language Proficiency Test). If you manage to pass the J.L.P.T after attending the classes, you will be given a Certificate for Japanese Language that is internationally recognised!
We hope that you will be able to communicate with many Japanese-speaking people and that our School will serve as a bridge for promoting world friendship in the near future.
And, I'd just like to say that we offer the most reasonable price in Singapore for studying the Japanese Language!
CERTIFICATE OF REGISTRATION OF SCHOOL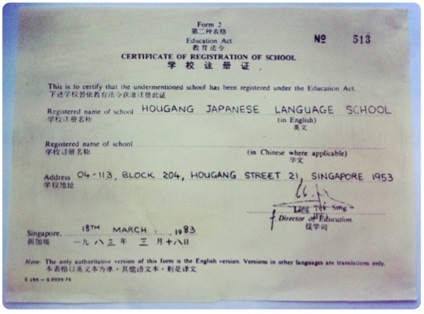 > Introduction